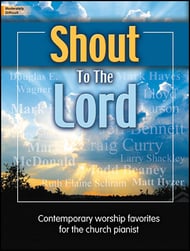 Shout To The Lord
Various
- Lorenz Corporation
For two decades, the musicians at Hillsong Church in Sydney, Australia have provided churches around the world with worship songs that glorify God and speak to the Christian's heart. For this new collection,
Shout to the Lord,
ten Hillsong favorites have been selected and arranged by favorite arrangers as piano solos. Arrangers include Larry Shackley, Mark Hayes, Craig Curry, Lloyd Larson, Matt Hyzer, Douglas Wagner, Mary McDonald, Ruth Elaine Schram among others. The wide range of styles and moods in this collection means you'll be able to find a song to fit almost every need in contemporary or blended services. Titles include:
The Potter's Hand; Jesus, What a Beautiful Name, Might to Save; Love You So Much; I Give You My Heart; Worthy is the Lamb; Eagle's Wings
and more!
Select a Product
Customers Also Bought
Full Song List
THE POTTER'S HAND
JESUS, WHAT A BEAUTIFUL NAME
MIGHTY TO SAVE
LOVE YOU SO MUCH
I GIVE YOU MY HEART
SHOUT TO THE LORD
I WILL RUN TO YOU
WORTHY IS THE LAMB
EAGLE'S WINGS
MY REDEEMER LIVES