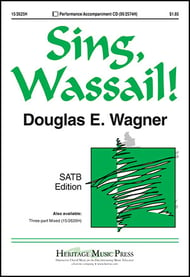 Sing, Wassail!
arr. Douglas E. Wagner
- Heritage Music Press
Clever original lyrics grace this joyful, buoyant setting of the traditional tune,
Gloucester Wassail.
Perform it as a holiday concert opener, closer or encore, or as part of a madrigal dinner. "Though wind and foul weather may be raging outside, let our music surround you this merry Yuletide..."
Select a Product
Customers Also Bought