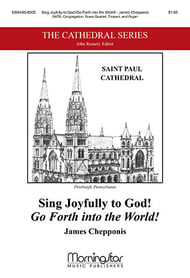 Sing Joyfully to God! Go Forth into the World!
arr. James Chepponis
- MorningStar Music Publishers
This hymn concertato on FESTAL SONG contains two complete texts, increasing its usefulness. The first text is based on Psalm 100 and is suitable as a hymn to begin a service, and the second is based on Matthew 28:19-20 and is suitable to conclude a service. (They are not intended for use in the same service.) It begins with a brass and choral fanfare that leads into a sturdy unison rendition of the first stanza, and develops from there, including the option of a choral stanza without organ, brass. timpani, or congregation. A modulation recaps the opening fanfare and leads into the final stanza with a vocal descant and a florid part for a solo reed stop on the organ.
Select a Product
Customers Also Bought