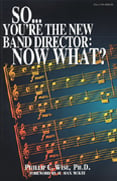 So You're the New Band Director: Now What?
Philip C. Wise
- C L Barnhouse Company
This excellent book addresses all those non-musical aspects of being a Band Director that get in the way of making music: Discipline, Organization, Scheduling, Booster Organizations; Dealing with Administrators and more.  It's chock full of tried and tested solutions for hundreds of situations which confront directors on a daily basis.  You can learn this stuff the hard way, or you can read this book and save yourself several headaches!        
Select a Product
Customers Also Bought