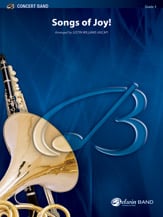 Songs of Joy!
Justin Williams
- Alfred Publishing Belwin Division
Timeless and beloved,
Jesu, Joy of Man's Desiring
and the choral finale from Beethoven's Ninth Symphony are brought to your concert ensemble like you've never heard them before! Suitable for any occasion, this work incorporates Celtic, pop and rock styles interwoven with catchy riffs and contemporary harmonies for a refreshing and fun experience.
Select a Product
Customers Also Bought