Studio One 3 Artist Digital Audio Workstation
Presonus Software
- PRESONUS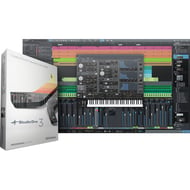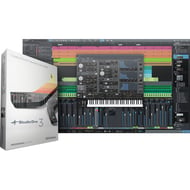 Studio One 3 Artist Digital Audio Workstation
Presonus Software
- PRESONUS
Email delivery of the Digital Download code may take 1 to 3 days. Boxed software will be sent by ground carrier.
Digital Audio Workstation software with unlimited tracks, 32-bit processing, and plug-in suite. Mac or Windows.
An integrated approach to recording music, from tracking to mixing to mastering and distribution, featuring a flow-oriented drag-and-drop interface built for intuitive use, speed, and efficiency.
Robust enough for the most complex productions it delivers full audio and MIDI recording and editing capabilities with over 30 effects plug-ins and five virtual instruments, including the new Presence XT sampler and the Mai Tai polyphonic synthesizer. There are no limits on track count, plug-in instantiations, or editing features. Compatible with any ASIO, Windows Audio, or Core Audio-compliant audio interface including the entire line of PreSonus interfaces. The boxed version contains a license and a USB media stick to download the software directly from PreSonus.


Presence XT expandable sampler with essential sound library
Mai Tai polyphonic, analog modeling synth with character morphing, modulation matrix, and zero-delay feedback filters
Native Fat Channel plug-in from StudioLive AI mixers includes low-pass filter, gate, compressor, parametric EQ, and limiter
Updated content browser with drag-and-drop functionality and keyword musical search; find, preview, and drag-and-drop tempo-matched backing tracks, samples, effects, instruments, and presets
Integrated online PreSonus Shop provides easy in-app access to additional features and more professionally produced content
Updated AudioBend real-time pitch and time stretching powered by Elastique Pro 3.0
Control Link MIDI-mapping system
Over 2 GB of loops, samples, and other content
Seamless import of Capture recordings with StudioLive AI mixer scenes and Fat Channel settings
Wireless transfer of audio from Capture for iPad
Import Notion stems with instrument names, mix, and tempo info preserved
Features
Single-window work environment
Drag-and-drop functionality
Unlimited audio and MIDI tracks, virtual instruments, buses, and FX channels
Integrated Melodyne pitch correction (trial version)
Single and multitrack comping
Folder tracks with grouping and busing
Track List with presets and mixing Console link
Transient detection and editing
Drag-and-drop groove extraction
Multitrack MIDI editing
Track Transform (freezing capability)
Event-based effects
Automatic delay compensation
Advanced automation
32-bit audio processing
Easy-to-use sidechain routing
Virtual instruments
User-friendly sampler
Intuitive MIDI-mapping system
Real-time audio time-stretching and re-sampling
Compatible with any ASIO, Windows Audio, or Core Audio compliant audio interface
Works with key commands from Pro Tools, Cubase, and Logic - or create custom key commands
Effects plug-ins
Ampire XT amplifier-modeling
Analog Delay tape-delay emulation
Auto Filter envelope filter
Beat Delay tempo synchronized delay
Binaural Pan stereo panning effect
BitCrusher lo-fi down-sampling processor
Channel Strip dynamics processing and equalizer
Chorus mono/stereo chorus
Compressor mono/stereo variable compressor
Dual Pan independent stereo panner
Expander mono stereo expander
Fat Channel native version of StudioLive fat channel
Flanger mono/stereo flanger
Gate noise gate with MIDI trigger
Input Filter (Note FX) MIDI filter for velocity and key range
Level Meter sizable peak/RMS meter
Limiter mono/stereo limiter
Mixtool phase and MS utility
MixVerb mono/stereo reverb
Phaser multi-stage all-pass filter phaser
Phase Meter phase-correlation analysis
Pro EQ 7-band parametric EQ
RedLightDist distortion processor
Room Reverb mono/stereo room reverb
Rotor rotary speaker emulator
Scope full-featured oscilloscope with sidechain input
Spectrum Meter frequency analyzer
Tone Generator multi-waveform signal generator
Tricomp 3-band compressor
Tuner chromatic instrument tuner
X-Trem mono stereo tremolo
Virtual instruments
Presence XT advanced virtual sample player
Mai Tai polyphonic virtual analog synthesizer
Impact sample-trigger instrument with 16 pads
Mojito monophonic subtractive synthesizer with 24 dB filter emulation
SampleOne basic sample player
Mixing and Control
Multitouch-enabled high DPI UI for Mac and Windows
Advanced automation with curves
Automatic latency compensation
Easy side-chain routing
Control Link (intuitive MIDI-mapping system)
Included Content
Presence XT Library (1.56 GB)
Studio One Instruments Vol. 1
Studio One Musicloops 1 and 2
Studio One Expansion
Voodoo One Synth Soundset

Third-party hardware and software integration
Support for AU, VST2, and VST3 plug-ins and ReWire applications (available add-on)
Compatible with Mackie Control HUI control surfaces and standard MIDI controllers
Compatible with ASIO-, Windows Audio-, and Core Audio-compliant audio interfaces
Use Pro Tools, Cubase, or Logic key shortcuts or create your own
Video import/export, video track playback window (available add-on)
Import from and export to SoundCloud
Lossless audio export (WAV- AIFF)

Studio One 3 Professional raises the bar. Sporting an elegant single-window workspace with robust drag-and-drop functionality and multi-touch support, version 3 of this powerhouse DAW gives you more smart features aimed at making you a total creative beast. These include an on-the-fly Arranger Track with Scratch Pads that lets you freely experiment with musical or sonic ideas. An upgraded Browser that lets you find, preview, and drag and drop tempo-matched backing tracks, samples, effects, instruments, presets, and more. The new Mai Tai analog modeling polysynth with character morph, mod matrix, and zero-feedback filters. Read on to find out what else is new in PreSonus Studio One 3 Professional - and what it can do for your music.

Studio One 3 Professional gives you powerful tools for building killer layered signature sounds, including multi-instrument and parallel processing, extended FX chains; the PresenceXT sampler with its 15 GB sound library and EXS, Kontakt, and Giga support; the Mai Tai analog modeling polysynth; BitCrusher; and Rotor Native Effects. You'll enjoy improved sonics with Elastique 3.0 time stretch and pitch manipulation. Quickly find samples, loops - over 2,000 are included, and presets fast with the musical-search, keyword-driven Browser, and integrated online PreSonus Shop.

PreSonus has incorporated the most-requested features into Studio One 3 Professional. These include a new on-the-fly Arranger Track with Scratch Pads that lets you freely experiment with musical or sonic ideas; NoteFX with Arpeggiator, Chorder, Repeater, and input Filter; and Step Recording for easy beat and track programming. It all adds up to a streamlined workflow that makes creativity more fluid than ever.

With Studio One 3 Professional, you get an all-new interface that's optimized for high-resolution displays. It not only looks good, but it also gives you the assistance you need - when you need it - with dynamic, context-sensitive documentation, help, and tool tips. The interface also includes multi-touch support, definable Macro Controls, Studio One Remote for iPad, Automation Curves, a smart user-definable tools palette; and a retooled console for more accurate and intuitive mixing.
Select a Product
Customers Also Bought