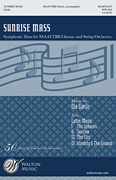 Sunrise Mass
Ola Gjeilo
- Walton Music
This spiritually-uplifting extended work, neither expressly sacred nor secular, uses ancient texts even though the titles of the movements are in English:
I. The Spheres (Kyrie); II. Sunrise (Gloria); III. The City (Credo); IV. Identity & The Ground (Sanctus).
The four movements develop from a sense of the cosmos to an affirmation of the earth, from the echo of
The Spheres
in the first movement to the final reassuring themes of
Identity & The Ground.
A beautiful work for advanced high school choirs and beyond.
Select a Product
Customers Also Bought