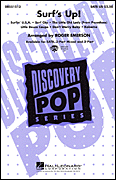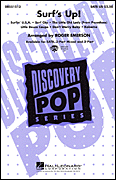 Surf's Up!
arr. Roger Emerson
- Hal Leonard Corporation
This high-energy medley is full of fun, fun, fun! Featuring some of the best tunes of the 60's, this 9-minute medley is tailor-made for younger groups. Includes:
Don't Worry Baby; Kokomo; Little Deuce Coupe; Little Old Lady From Pasadena; Surf City
and
Surfin' USA.
It's totally cool!
Select a Product
Customers Also Bought
Full Song List
DON'T WORRY BABY
KOKOMO
LITTLE DEUCE COUPE
THE LITTLE OLD LADY FROM PASADENA)
SURF CITY
SURFIN' U.S.A.