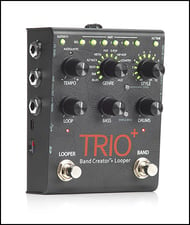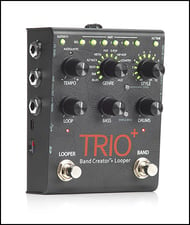 TRIO+ Band Creator with Guitar Looping Band Generation Station
Digitech
- JAM Industries USA LLC
The TRIO+ is a simple-to-use guitar pedal that listens to the way you play and automatically generates bass and drum parts that match your song. Just plug your guitar into the TRIO+, press the Band foot switch to teach the TRIO+ your chords and rhythm, then press the Band foot switch again to start playing with your own personal band! Bass and drum levels can be adjusted for the perfect mix using the TRIO+'s Bass and Drums knobs. The TRIO+ also features a Simple Bass button lets you select between 3 bass line modes for busy or simple bass lines.

Pushing the Band Creator paradigm further, the TRIO+ also allows you to loop and custom sequence your looped guitar parts to create full songs on the fly. Press the TRIO+'s Looper foot switch to record a loop along with an unlimited number of overdubs. The Loop level can be individually controlled using the TRIO+'s Loop knob. Loops can be recorded by themselves, operating just like a traditional looper, or along with the band. You can also apply built-in effects to your guitar signal by enabling the TRIO+'s Guitar FX button, or connect your favorite effects to the TRIO+'s FX Send and FX Return jacks.
12 Music Genres To Choose From
12 Styles Selectable Per Genre
Can Learn Up To 5 Different Parts Per Song
Programmable Song Part Intensities For Creating Song Dynamics
Programmable Song Part Sequencer
3 Bass Line Modes
Built-in Looper With Unlimited Overdubs
Adjustable Tempo With Audiolastic Time Stretching & Quick Selection Of Alternate Time Interpretation
Independently Adjustable Level Controls For Bass, Drums, & Loops
Built-In Guitar Effects Designed For Each Genre
Amp & Mixer Outputs
FX Loop For Connecting External Effect Pedals
1/8" (3.5 mm) Mini Headphone Output With Headphone Level Control
Up To 12 Songs With Loops Can Be Stored To A Micro SD Card (Included)
Additional Hands-Free Control Available Using An Optional DigiTech FS3X Footswitch
Dual Soft Touch Vacuum Switches
Rugged Design
Included Power Adapter

The TRIO+ provides 12 music genres to choose from including: Blues, R&B, Rock, Alternative Rock, Metal, Pop, Electronic Pop, Hip-Hop, Country, Folk, Latin, and Jazz. 12 song styles are available for each genre and can be selected using the TRIO+'s Style encoder, including selection between 3/4 and 4/4 time signatures. Multi-colored LEDs around the TRIO+'s Style encoder indicate which styles best match your song.

The TRIO+ can learn up to 5 different song parts, perfect for creating an intro, verse, chorus, bridge and outro. Song parts can be recalled on-the-fly as the song plays back or pre-programed as a sequence for automated playback. An optional DigiTech FS3X Foot switch can be connected to the TRIO+'s Control In jack for additional hands free control with 3 modes of operation to select from.

Up to 12 songs along with loops can be stored to the TRIO+'s Micro SD Card (included). Need to create more songs? No problem. Just insert a new SD Card and you're ready to start teaching the band your new songs. To manage all your songs and loops on a computer, download the free Librarian Manager software from digitech.com, available for Windows and Mac.

The TRIO+ offers independent Tempo, Genre, Style, Loop Level, Bass Level, Drums Level, Headphone Output Level controls; Guitar, FX Return and Control Inputs;Amplifier, Mixer, FX Send and Headphone Outputs; Built-in Guitar Effects (relative to music genre); a Soft Click Foot switch and includes a 9V DC adapter.
Select a Product
Customers Also Bought