Take 5
(Comic Scripts In 5 Minutes Or Less)
Torry Martin
- Lillenas Publishing Co.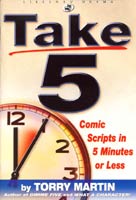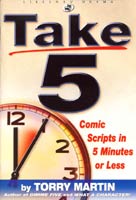 Take 5
(Comic Scripts In 5 Minutes Or Less)
Torry Martin
- Lillenas Publishing Co.
This superb resource uses short scripts with small casts in easy-to-learn and easy-to-stage skits containing gems of truth married with humor. Topics include: Loving Your Neighbor, Prayer, Living at Peace, Accepting Responsibility, Meddling With Others, Reaching Out To Others, Encouraging Each Other, and many more.
Select a Product
Customers Also Bought