The A Cappella Singer
(A Collection Of Motets, Madrigals, Chansons, Carols, Ayres, Ballets, Etc.)
ed. Henry Clough-Leighter
- E.C. Schirmer Music Co.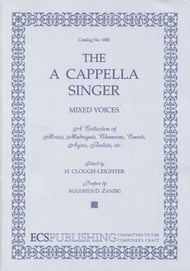 The A Cappella Singer
(A Collection Of Motets, Madrigals, Chansons, Carols, Ayres, Ballets, Etc.)
ed. Henry Clough-Leighter
- E.C. Schirmer Music Co.
A cappella
This excellent 172 page collection includes titles such as
Sing We And Chant It; April Is In My Mistress' Face; Now Is The Month Of Maying; My Bonny Lass; Shoot False Love I Care Not; Flora Gave Me Fairest Flowers; Adieu Sweet Amarillis; The Silver Swan; In These Delightful Pleasant Groves; Matona Lovely Maiden; I Know A Young Maiden Wondrous Fair; O Eyes Of My Beloved; So Well I Know Who's Happy
and many more by composers such as Morley, Wilbye, Weelkes, Byrd, Gibbons, Purcell, DiLasso, Vecchi and more. A superb collection for any good choral library!
Select a Product
Customers Also Bought
This item appears on the following state lists: