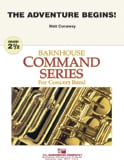 The Adventure Begins!
Matt Conaway
- C L Barnhouse Company
Uplifting and celebratory, this charming concert work is a sure hit for concert or festival programming. The quiet beginning quickly builds to a powerful rhythmic statement, weaving through a variety of melodic settings before settling down again for the serene and quiet conclusion.
Select a Product
Customers Also Bought
This item appears on the following state lists:
This item appears on the following festival lists: