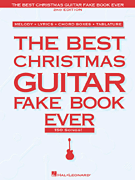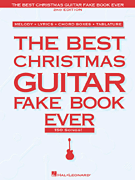 The Best Christmas Guitar Fake Book
(3rd Edition)
Various Composers
- Hal Leonard Corporation
A prime collection of 150 Christmas favorites with melody, lyrics, chord boxes and tablature for each. Features:
The Christmas Song (Chestnuts Roasting on an Open Fire); Christmas Time Is Here; Frosty the Snow Man; Happy Holiday; I Saw Mommy Kissing Santa Claus; Jingle-Bell Rock; Joy to the World; Merry Christmas, Darling; Mister Santa; My Favorite Things; O Christmas Tree; Santa Baby; Silver and Gold; Silver Bells; Suzy Snowflake; Tennessee Christmas; You Make It Feel like Christmas
and more. Includes a chord diagram chart and strum and picking patterns.
Select a Product
Customers Also Bought
Full Song List
O COME, LITTLE CHILDREN
O COME, O COME IMMANUEL
O HEARKEN YE
O HOLY NIGHT
O LITTLE TOWN OF BETHLEHEM
O SANCTISSIMA
OLD TOY TRAINS
ON CHRISTMAS NIGHT
ONCE IN ROYAL DAVID'S CITY
ONE FOR THE LITTLE BITTY BABY (GO W
AS LATELY WE WATCHED
PARADE OF THE WOODEN SOLDIERS
PAT-A-PAN WILLIE, TAKE YOUR LITTLE
POOR LITTLE JESUS
PRETTY PAPER
REJOICE AND BE MERRY
RISE UP, SHEPHERD, AND FOLLOW
ROCKIN' AROUND THE CHRISTMAS TREE
RUDOLPH THE RED NOSED REINDEER
SANTA BABY
SANTA, BRING MY BABY BACK TO ME)
AS WITH GLADNESS MEN OF OLD
SHOUT THE GLAD TIDINGS
SILENT NIGHT
SILVER AND GOLD
SILVER BELLS
SING WE NOW OF CHRISTMAS
SLEEP, HOLY BABE
THE SNOW LAY ON THE GROUND
THE STAR CAROL
THE STAR CAROL CANZONE D'I ZAMPOGN
STAR OF THE EAST
AT THE HOUR OF MIDNIGHT
STILL, STILL, STILL
SUZY SNOWFLAKE
TENNESSEE CHRISTMAS
THAT CHRISTMAS FEELING
THERE'S A SONG IN THE AIR
THIS IS CHRISTMAS BRIGHT, BRIGHT T
TOYLAND
'TWAS THE NIGHT BEFORE CHRISTMAS
THE TWELVE DAYS OF CHRISTMAS
UP ON THE HOUSETOP
AULD LANG SYNE
A VIRGIN UNSPOTTED
WE ARE SANTA'S ELVES
WE THREE KINGS OF ORIENT ARE
WE WISH YOU A MERRY CHRISTMAS
WHAT CHILD IS THIS?
WHEN CHRIST WAS BORN OF MARY FREE
WHILE SHEPHERDS WATCHED THEIR FLOCK
WINDS THROUGH THE OLIVE TREES
WONDERFUL CHRISTMASTIME
THE WONDERFUL WORLD OF CHRISTMAS
AWAY IN A MANGER
YOU MAKE IT FEEL LIKE CHRISTMAS
A BABY IN THE CRADLE
BECAUSE IT'S CHRISTMAS FOR ALL THE
A BOY IS BORN IN BETHLEHEM
BRING A TORCH, JEANNETTE ISABELLA
BURGUNDIAN CAROL
A CAROLING WE GO
CAROL OF THE BELLS
CAROLING, CAROLING
A CHILD IS BORN IN BETHLEHEM
THE CHIPMUNK SONG
CHRIST WAS BORN ON CHRISTMAS DAY
CHRISTIANS, AWAKE! SALUTE THE HAPPY
C-H-R-I-S-T-M-A-S
CHRISTMAS IS A COMIN' (MAY GOD BLES
THE CHRISTMAS SONG CHESTNUTS ROAST
CHRISTMAS TIME IS HERE
ALL THROUGH THE NIGHT
THE CHRISTMAS WALTZ
COME, ALL YE SHEPHERDS
COME, THOU LONG EXPECTED JESUS
COVENTRY CAROL
A DAY, BRIGHT DAY OF GLORY
DECK THE HALL
DING DONG! MERRILY ON HIGH!
DO THEY KNOW IT'S CHRISTMAS?
EVERYWHERE, EVERYWHERE, CHRISTMAS T
FELIZ NAVIDAD
ALMOST DAY
THE FIRST NOEL
THE FRIENDLY BEASTS
FROM HEAVEN ABOVE TO EARTH I COME
FROM THE EASTERN MOUNTAINS
FROSTY THE SNOW MAN
FUM, FUM, FUM
GATHER AROUND THE CHRISTMAS TREE
GLAD CHRISTMAS BELLS
GLAD TIDINGS SHALOM CHAVERIM)
GO, TELL IT ON THE MOUNTAIN
JESUS IS BORN
GOD REST YE MERRY, GENTLEMEN
GOOD CHRISTIAN MEN, REJOICE
GOOD KING WENCESLAS
GRANDMA GOT RUN OVER BY A REINDEER
GREENWILLOW CHRISTMAS
THE HAPPY CHRISTMAS COMES ONCE MORE
HAPPY XMAS WAR IS OVER)
HAPPY HOLIDAY
HARK! THE HERALD ANGELS SING
HEAR THEM BELLS
I WONDER AS I WANDER
HERE WE COME A WASSAILING
THE HOLLY AND THE IVY
A HOLLY JOLLY CHRISTMAS
HOW BRIGHTLY BEAMS THE MORNING STAR
I HEARD THE BELLS ON CHRISTMAS DAY
I SAW MOMMY KISSING SANTA CLAUS
I SAW THREE SHIPS
I'LL BE HOME FOR CHRISTMAS
I'M SPENDING CHRISTMAS WITH YOU
IN FIELD WITH FLOCKS ABIDING
ANGELS FROM THE REALMS OF GLORY
INFANT HOLY, INFANT LOWLY
IT CAME UPON THE MIDNIGHT CLEAR
IT'S BEGINNING TO LOOK LIKE CHRISTM
JESU, JOY OF MAN'S DESIRING
JINGLE BELL ROCK
JINGLE BELLS
JINGLE, JINGLE, JINGLE
JOLLY OLD ST. NICHOLAS
JOY TO THE WORLD
JOYOUS CHRISTMAS
ANGELS WE HAVE HEARD ON HIGH
THE LAST MONTH OF THE YEAR WHAT MO
LET IT SNOW! LET IT SNOW! LET IT SN
LO, HOW A ROSE E'ER BLOOMING
MARCH OF THE THREE KINGS
A MARSHMALLOW WORLD
MARY HAD A BABY
MARY'S LITTLE BOY CHILD
MERRY CHRISTMAS, DARLING
THE MERRY CHRISTMAS POLKA
MISTER SANTA
LITTLE SAINT NICK
THE MOST WONDERFUL DAY OF THE YEAR
THE MOST WONDERFUL TIME OF THE YEAR
MY FAVORITE THINGS
THE NIGHT BEFORE CHRISTMAS SONG
NOEL! NOEL!
NUTTIN' FOR CHRISTMAS
O COME REJOICING
O BETHLEHEM
O CHRISTMAS TREE
O COME, ALL YE FAITHFUL ADESTE FID
AS EACH HAPPY CHRISTMAS