The Boosey & Hawkes Piano Sonata Collection
Various Composers
- Boosey & Hawkes, Inc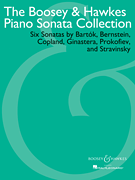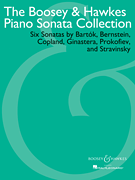 The Boosey & Hawkes Piano Sonata Collection
Various Composers
- Boosey & Hawkes, Inc
A wonderful compilation of 20th century sonatas, this collection includes six sonatas by prominent composers. Titles are:
Sonata
(Bartok);
Sonata
(Leonard Bernstein);
Piano Sonata
(Copland);
Sonata No. 1, Op. 22
(Ginastera);
Sonata No. 3, Op. 28
(Prokofiev) and
Sonata
(Stravinsky). All are accessible to the advanced high school and college-level pianist.
Copyright: New York, NY: Boosey & Hawkes ©2012
Select a Product
Customers Also Bought
Full Song List
SONATA by BELA BARTOK
PIANO SONATA by AARON COPLAND
SONATA NO.1, OP.22 by ALBERTO GINASTERA
SONATA NO.3, OP.28 by SERGEI PROKOFIEV