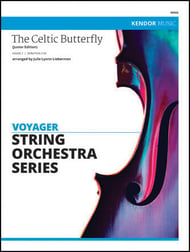 The Celtic Butterfly
arr. Julie Lyonn Lieberman
- Kendor Music Publishing
The extremely popular Celtic melody,
Butterfly,
has been framed in an unforgettable and lively arrangement - the players won't want to stop playing it! There are two versions, at different grade levels, that interlock to create a multilevel festival event. A great way to incorporate both your junior level and senior level players. The combined score can be downloaded for free at
www.kendormusic.com.
Select a Product
Customers Also Bought
MINTS