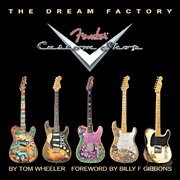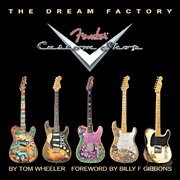 The Dream Factory
(Fender Custom Shop)
Tom Wheeler
- Hal Leonard Corporation
Publisher Desc.
This third in a series of hardcover books joins the award-winning titles The Stratocaster Chronicles and The Soul of Tone by author/historian Tom Wheeler. In over 600 pages, The Dream Factory features hundreds of full-color photos of incredibly rare, collectible, and limited-edition handcrafted guitars. Learn how the Fender Custom Shop, originally intended to employ just two master craftsmen, grew into the most prolific custom instrument shop in the music industry. Features:
Foreword by Billy Gibbons
More than 630 images illustrating the first master builders and their humble beginnings through the many changes up to present-day operations. Includes many one-of-a-kind custom guitar masterpieces and reproductions of acclaimed guitarists' instruments, such as Eric Clapton's "Blackie," Jimi Hendrix's Monterey Strat, Stevie Ray Vaughan's No.1, and many more. A must-have for all guitar enthusiasts!
Unprecedented view inside one of the music industry's most creative custom instrument shops, revealing how playable works of art are created.
Fascinating interviews with the shop's founders, most of the first-generation Master Builders, all of the current Master Builders, other key craftspeople, sales representatives, artists' guitar techs, marketers, executives, guitarists, and many of the graphic artists, woodcarvers, jewelers, pinstripers, graffiti artists, pearl-inlay specialists, and others who have partnered with the Master Builders to create art works of stunning beauty.
Copyright: Milwaukee, WI: Hal Leonard Corporation ©2011
Select a Product
Customers Also Bought