The First Book of Mezzo-Soprano/Alto Solos, Vol. 3
ed. Joan Frey Boytim
- G. Schirmer, Inc.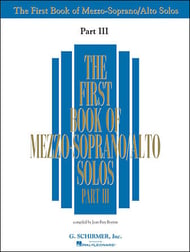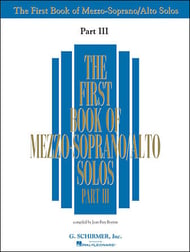 The First Book of Mezzo-Soprano/Alto Solos, Vol. 3
ed. Joan Frey Boytim
- G. Schirmer, Inc.
Contents include: At the Zoo; Beau Soir; The Bubble Song; But the Lord Is Mindful of His Own; By Dimpled Brook; Clair de Lune; Corals; Dolce Scherza; Evening Song; I Walked Today Where Jesus Walked; Ich liebe dich; If There Were Dreams to Sell; Landscape; The Lark Now Leaves His Watery Nest; The Little Old Lady in Lavender Silk; Lord, How Long Wilt Thou Forget Me?; The Lotus Bloom; Menuet d'Exaudet; Mit einer Wasserlilie; Morgen; Morgen-Hymne; My Lover Is a Fisherman; Der Nussbaum; O Lovely Peace; O Praise the Lord; Over the Land Is April; Prayer of the Norwegian Child; Premiere Danse; Sapphische Ode; Since First I Met Thee; Slumber Song; Spiagge Amate; Still Wie die Nacht; To Come, O Lord, to Thee and Un Cor da Voi Ferito.
Select a Product
Customers Also Bought
Full Song List
AT THE ZOO I. THE PORCUPINE by ARTHUR WALTER KRAMER
AT THE ZOO II. THE SNAKE by ARTHUR WALTER KRAMER
AT THE ZOO III. THE GIRAFFE by ARTHUR WALTER KRAMER
BEAU SOIR (AFTERGLOW) by CLAUDE DEBUSSY
THE BUBBLE SONG by MARTIN SHAW
BUT THE LORD IS MINDFUL OF HIS OWN by FELIX MENDELSSOHN
BY DIMPLED BROOK by THOMAS AUGUSTINE ARNE
CLAIR DE LUNE (MOONLIGHT) by GABRIEL FAURE
CORALS by BRYCESON TREHARNE
DOLCE SCHERZA (SWEETLY PLAY) by GIACOMO ANTONIO PERTI
EVENING SONG by CLARA EDWARDS
I WALKED TODAY WHERE JESUS WALKED by GEOFFREY O'HARA
ICH LIEBE DICH (I LOVE THEE) by EDWARD GRIEG
IF THERE WERE DREAMS TO SELL by JOHN IRELAND
LANDSCAPE by CHARLES T. GRIFFES
THE LARK NOW LEAVES HIS WATERY NEST by HORATIO PARKER
THE LITTLE OLD LADY IN LAVENDER SILK by MARY MARGARET VINMONT
LORD, HOW LONG WILT THOU FORGET ME? by RANZZINI
THE LOTUS BLOOM by JOHN JACOB NILES
MENUET D'EAUDET (EXAUDET'S MINUET) by ANDRE-JOSEPH EXAUDET
MIT EINER WASSERLILIE (WITH A WATER LILY) by EDVARD GRIEG
MORGEN! (TOMORROW) by RICHARD STRAUSS
MORGEN-HYMNE (MORNING HYMN) by GEORGE HENSCHEL
MY LOVER IS A FISHERMAN by LILY STRICKLAND
DER NUSSBAUM (THE WALNUT TREE) by ROBERT SCHUMANN
O LOVELY PEACE by G.F. HANDEL
O PRAISE THE LORD by MAURICE GREENE
OVER THE LAND IS APRIL by ROGER QUILTER
PRAYER OF THE NORWEGIAN CHILD by RICHARD KOUNTZ
PREMIERE DANSE (THE FIRST DANCE) by JULES MASSENET
SAPPHISCHE ODE (SAPPHIC ODE) by JOHANNES BRAHMS
SINCE FIRST I MET THEE by ANTON RUBINSTEIN
SLUMBER SONG (BERCEUSE) by ALEXANDER GRETCHANINOFF
SPIAGGE AMATE (BELOVED SHORE) by CHRISTOPH WILLIBALD VON GLUCK
STILL WIE DIE NACHT (STILL AS THE NIGHT) by KARL BOHM
TO COME, O LORD, TO THEE by WILLIAM STICKLES
UN COR DA VOI FERITO (A HEART THAT THOU HAST WOUNDED) by ALESSANDRO SCARLATTI
This item appears on the following state lists: