The First Book of Mezzo-Soprano/Alto Solos Vol. 2
Compiled by Joan Frey Boytim
- G. Schirmer, Inc.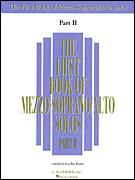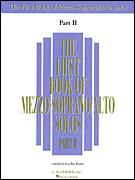 The First Book of Mezzo-Soprano/Alto Solos Vol. 2
Compiled by Joan Frey Boytim
- G. Schirmer, Inc.
Contents include:
Dream Valley (Quilter); Danny Boy (Weatherly); Two Little Flowers (Ives); Clouds (Charles); Bist Du Bei Mir (Bach); Carol Of The Birds (John Jacob Niles); The Virgin's Slumber Song (Max Reger); Ah, Min Cor (Ah, Poor Heart) (Handel)
...thirty-seven selections in all.
Select a Product
Customers Also Bought
Full Song List
AH! MIO COR (AH! MY HEART) by G.F. HANDEL
AS I WENT A-ROAMING by MAY H. BRAHE
AUF DEM MEERE (ON THE OCEAN) by ROBERT FRANZ
AVE VERUM (JESU, WORD OF GOD INCARNATE) by W.A. MOZART
BENEATH A WEEPING WILLOW'S SHADE by FRANCIS HOPKINSON
BIST DU BEI MIR (YOU ARE WITH ME) by J.S. BACH
THE BLUE-BELL by EDWARD MACDOWELL
CARMENA by H. LANE WILSON
THE CAROL OF THE BIRDS by JOHN JACOB NILES
C'EST MON AMI (MY FRIEND) by ARR. BAINBRIDGE CRIST
CLOUDS by ERNEST CHARLES
COME YE BLESSED by ALFRED GAUL
CREPUSCULE (TWILIGHT) by JULES MASSENET
DANNY BOY by FRED WEATHERLY
DREAM VALLEY by ROGER QUILTER
ELEGIE by JULES MASSANET
DAS ERSTE VEILCHEN (THE FIRST VIOLET) by FELIX MENDELSSOHN
ES MUSS EIN WUNDERBARES SEIN (IT MUST BE WONDERFUL) by FRANZ LISZT
GOTT IM FRUHLING (GOD IN SPRINGTIME) by FRANZ SCHUBERT
KEINE SORG' UM DEN WEG (LOVE FINDS OUT THE WAY) by J. RAFF
A LEGEND by P.I. TCHAIKOVSKY
THE LOVELY SONG MY HEART IS SINGING by EDMUND GOULDING
MARIA WIEGENLIED (THE VIRGIN'S SLUMBER SONG) by MAX REGER
MYSTERY'S SONG by HENRY PURCELL
NYMPHS AND SHEPHERDS by HENRY PURCELL
REND'IL SERENO AL CIGLIO (BRING TO YOUR EYES) by G.F. HANDEL
SEPARAZIONE (PARTING) by GIOVANNI SGAMBATI
SERENADE (SING, SMILE, SLUMBER) by CHARLES GOUNOD
THE SLEEP THAT FLITS ON BABY'S EYES by JOHN ALDEN CARPENTER
SPRING IS AT THE DOOR by ROGER QUILTER
DIE STILLE (SILENCE) by ROGER QUILTER
DIE STILLE WASSERROSE (THE SILENT WATERLILY) by ALEXANDER VON FIELITZ
TE DEUM (VOUCHSAFE, O LORD) by G.F. HANDEL
WEEP NO MORE by G.F. HANDEL
WHEN I HAVE OFTEN HEARD YOUNG MAIDS COMPLAINING by HENRY PURCELL
THE WILLOW SONG by ARTHUR SULLIVAN
WIND OF THE WHEAT by MONTAGUE F. PHILLIPS
This item appears on the following state lists:
This item appears on the following festival lists: