The King's Singers' Madrigals
(Volume 1 - Madrigals in 4 parts)
The King's Singers
- G. Schirmer, Inc.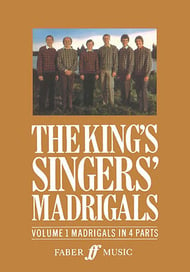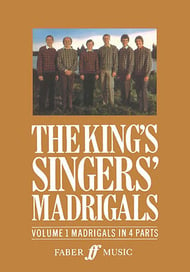 The King's Singers' Madrigals
(Volume 1 - Madrigals in 4 parts)
The King's Singers
- G. Schirmer, Inc.
A cappella
Publisher Desc.
This collection assembles some of the finest examples of the different styles that developed in Europe during the Golden Age of the madrigal some 400 years ago. Volume 1 contains 21 madrigals in four parts, presented in practical editions from The King's Singers for mixed voices. Includes performance notes, translations and pronunciation guide. Available: 4-Part a cappella.
Select a Product
Customers Also Bought
Full Song List
LIRUM BILILIRUM MANTOVANO)
ALLA CAZZA ANON)
IL BIANCO E DOLCE CIGNO
MATONA, MIA CARA LASSUS)
AU JOLI JEU
LA LA LA, NE L'OSE DIRE CERTON)
MARGOT LABOUREZ LES VIGNES
UN GENTIL AMOUREUX LE JEUNE)
HEIGH HO! 'CHILL GO TO PLOUGH
FINE KNACKS FOR LADIES DOWLAND)
FAIR PHYLLIS I SAW
OF ALL BIRDS THAT I KNOW BARTLET
ADIEU, SWEET AMARYLLIS (WI
IL EST BEL ET BON PASSEREAU)
DINDIRIN, DINDIRIN
FATAL LA PARTE (EN
CUCU, CUCU ENCINA)
DE LOS ALAMOS VENGO VASQUEZ)
ACH ELSLEIN,LIEBES ELSELEIN
VITRUM NOSTRUM GLORIOSUM ANON)
WIR ZOGEN IN DAS FELD ANON)
This item appears on the following state lists:
This item appears on the following festival lists: