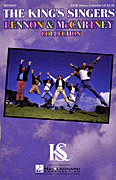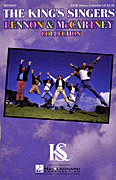 The King's Singers Lennon & McCartney Collection
Artist: The Beatles
The King's Singers
- Hal Leonard Corporation
A cappella
The amazing Beatles never sounded quite like this! Twelve of John Lennon & Paul McCartney's most popular songs are featured in this unique collection, representing the entire span of their years with the famous group. Here are the songs included, arranged as only The King's Singers can arrange them:
And I Love Her; Back In The USSR; Blackbird; Can't Buy Me Love; Eleanor Rigby; Honey Pie; I Feel Fine; I'll Follow The Sun; If I Fell; Michelle; Yesterday
and
You've Got To Hide Your Love Away.
Select a Product
Customers Also Bought
Full Song List
MICHELLE
YESTERDAY
YOU'VE GOT TO HIDE YOUR LOVE AWAY
AND I LOVE HER
BACK IN THE U.S.S.R.
BLACKBIRD
CAN'T BUY ME LOVE
ELEANOR RIGBY
HONEY PIE
I FEEL FINE
I'LL FOLLOW THE SUN
IF I FELL
This item appears on the following festival lists: