The Roar of the Greasepaint - the Smell of the Crowd
(Vocal Selections)
Anthony Newley & Leslie Bricusse
- Hal Leonard Corporation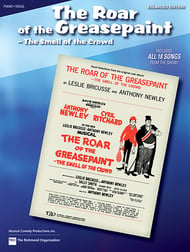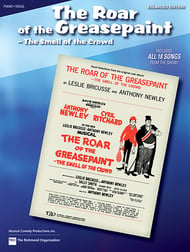 The Roar of the Greasepaint - the Smell of the Crowd
(Vocal Selections)
Anthony Newley & Leslie Bricusse
- Hal Leonard Corporation
Eighteen vocal selections from the Anthony Newley and Leslie Bricusse favorite, including The Beautiful Land; Feeling Good; Look at That Face; My Way; Nothing Can Stop Me Now!; Sweet Beginning; This Dream; Where Would You Be Without Me?; A Wonderful Day Like Today and more.
Select a Product
Customers Also Bought
Full Song List
MY WAY
FEELING GOOD
THE JOKER
NOTHING CAN STOP ME NOW!
WHO CAN I TURN TO WHEN NOBODY NEED
A WONDERFUL DAY LIKE TODAY
THE BEAUTIFUL LAND
LOOK AT THAT FACE
THAT'S WHAT IT IS TO BE YOUNG
SWEET BEGINNING
MY FIRST LOVE SONG
IT ISN'T ENOUGH
THINGS TO REMEMBER
PUT IT IN THE BOOK
WITH ALL DUE RESPECT
THIS DREAM
WHERE WOULD YOU BE WITHOUT ME?
WHAT A MAN!