The School Choral Program
(Philosophy, Planning, Organizing, and Teaching)
Michele Holt & James Jordan
- GIA Publications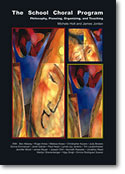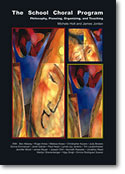 The School Choral Program
(Philosophy, Planning, Organizing, and Teaching)
Michele Holt & James Jordan
- GIA Publications
This definitive choral methods text is an invaluable reference for student choral conductors and seasoned professionals alike. 18 authors - all leading choral directors, administrators, practicing teachers or clinicians - share their practical insights and perspectives on a wide range of topics:
Philosophies and teaching styles; History of choral music; Designing and scheduling the choral program; Choosing repertoire; Care and feeding of the high school choir; Assessment; The choral rehearsal and warm-up; Elementary and middle-school choral programs; The changing voice; Improvisation; Vocal jazz and music theatre; Multicultural considerations; Movement and rhythm; Commissioning works for choirs; Choral programs in urban settings; Touring with your choir.
Included with the book is a CD containing recordings of exemplary high-school choirs. This book breaks new ground in choral music education, providing choral directors with the tools necessary to be successful in the classroom and at the podium.
Select a Product
Customers Also Bought