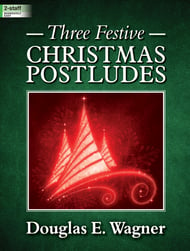 Three Festive Christmas Postludes
arr. Douglas E. Wagner
- Lorenz Corporation
Douglas E. Wagner has employed his joyous and energetic style in these three postludes based on familiar Christmas carols. They are easy to prepare and will send congregations out with the true spirit of the season in their hearts. Festive and well crafted!
Select a Product
Customers Also Bought
Full Song List
Recessional on "I Saw Three Ships"
Festivity on "Here We Come A-Caroling"
Toccatina on "God Rest You Merry, Gentleman"