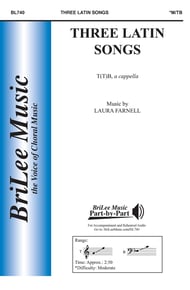 Three Latin Songs
Laura Farnell
- BriLee Music Publishing
A cappella
These three brief a cappella pieces may be performed as a set or separately:
Gloria Deo!; Dona Nobis Pacem
and
Jubilate Deo.
Each text is a simple Latin phrase followed by a paraphrase in English. The excellent performance notes give historical background and pronunciation guidelines. Set in different keys and tempos, with contrasting dynamic levels, they are a great way to feature your male voices at contest or festival! Highly recommended!
Select a Product
Customers Also Bought
This item appears on the following state lists:
This item appears on the following festival lists: