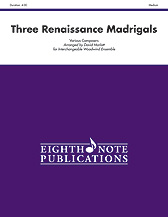 Three Renaissance Madrigals
Arr. David Marlatt
- Eighth Note Publications
Madrigals are often either lyrical songs about love or something sad, or playful songs about joy, celebration or fun. In this suite there are two lyrical pieces,
The Silver Swan
and
My Heart to Thee Now Makes Its Plea,
and a fun, energetic madrigal
Now is the Month of Maying,
all of which can be performed individually or together as a set. Arranged for a five part woodwind ensemble, with flexible instrumentation options available for each part.
Select a Product
Customers Also Bought
This item appears on the following state lists: