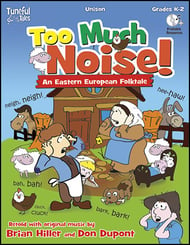 Too Much Noise!
(An Eastern European Folktale)
Don Dupont & Brian Hiller
- Heritage Music Press
Bring quality children's literature to life with the use of nursery rhymes and this fresh interpretation of the old tale.  This unison resource comes complete with a P/A CD, piano/vocal scores, reproducible student scores and lyrics, costume and prop templates, an easy-to-use program template, letters for the parents, and more.
Select a Product
Customers Also Bought
This item appears on the following festival lists: