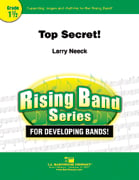 Top Secret!
(This Piece Will Self-Destruct)
Larry Neeck
- C L Barnhouse Company
With a title like this you would expect mystery, suspense and intrigue.  This piece delivers on all three.  Your students will love the suspenseful atmosphere while learning multiple musical skills and concepts along the way.  This musical mission, should you choose to accept it, will be a favorite at any concert performance.
Select a Product
Customers Also Bought