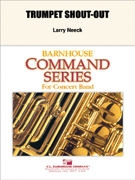 Trumpet Shout-Out!
(Trumpet Section Feature)
Larry Neeck
- C L Barnhouse Company
This one is smokin'!  Your trumpet section will shine as they get the spotlight in this heavy rock feature that's a guaranteed hit.  Even though it's a feature, every section has great parts and the whole band will love playing this solid-as-a-rock powerhouse!
Select a Product
Customers Also Bought