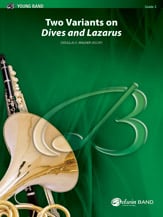 Two Variants on "Dives and Lazarus"
Douglas E. Wagner
- Alfred Publishing Belwin Division
A real pleasure to hear, this arrangement effectively draws out the natural beauty of this memorable melody. The folk tune that's the basis of this work dates back to 18th century England, and has been a favorite of generations of listeners. Now you can introduce another generation to this timeless classic.
Select a Product
Customers Also Bought
This item appears on the following state lists: