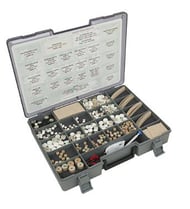 Valentino Director's Woodwind Fix Kit
JLSmith
- J.L. Smith & Co.
New and more versatile tool designs, more comprehensive part assortments, greater service capability, and peel & stick convenience make this repair kit better than ever! All the tools and supplies necessary to service woodwind instruments from piccolo to saxophone. Includes complete instructions. These tools and parts do exactly what they're supposed to do... get the instruments back in the hands of the kids!
• Replace pads
• Repair leaks
• Replace head joint corks
• Replace tenon corks
• Replace sax neck corks
• Replace sax disks
• Replace key bumpers
• Replace thumb rest cushions
and more!
Includes:
• Clarinet pads
• Oboe/piccolo pads
• Flute pads
• Bass clarinet pads
• Sax pads
• Sax bumpers & disks
• Woodwind cork assortment
• Key oil
• Cork grease
• Pad pin
• Pad slick
• Flute head cork stick
• Feeler strip holder
• Leak light
• Spring hook
• Knife
• Screwdriver
• Key clamp
Select a Product
Customers Also Bought