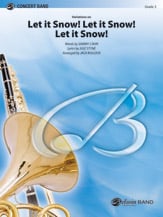 Variations on Let It Snow! Let It Snow! Let It Snow!
Sammy Cahn & Jule Styne/arr. Hiram Power
- Alfred Publishing Belwin Division
This work is a favorite seasonal song, wishfully heard at the start of winter. A variety of attractive styles applied to the melody are serenade, jazz, waltz and even a march, but the wonderful melody is always front and center! Easy to sing and easy to play, it's a popular tune that's loved by all.
Select a Product
Customers Also Bought