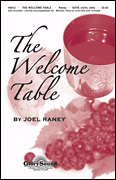 The Welcome Table
Joel Raney
- Shawnee Press
What better way to gather around the Lord's table then in song! This unique communion offering unites two beloved tunes,
I'm Gonna Sit at the Welcome Table
and
Let Us Break Bread Together,
in an anthem that's not to be missed. A soulful offering, it will prepare a fresh look at the communion table for you and your congregation.
Select a Product
Customers Also Bought