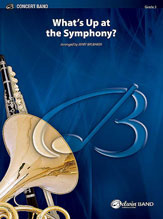 What's up at the Symphony?
(Bugs Bunny's Greatest Hits)
arr. Jerry Brubaker
- Alfred Music Publishing
Bugs invites you to take part in this classic(al) cartoon medley! All the great tunes are here: This is It; William Tell; The Barber of Seville; The Merry Go Round Broke Down; Liszt's Hungarian Rhapsody; Brahms' Hungarian Dance and Wagner's Ride of the Valkyries. Each cartoon mood and effect is guaranteed to bring cheers and smiles!
Select a Product
Customers Also Bought