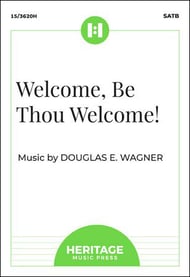 Welcome, Be Thou Welcome!
Douglas E. Wagner
- Heritage Music Press
"Welcome season of delight. Welcome on this winter night." Open your December concert or madrigal dinner festivities with this sturdy, engaging choral fanfare. The largely independent piano part adds support and tonal color, though the work may also be performed unaccompanied. A modern madrigal for the holiday season!
Select a Product
Customers Also Bought