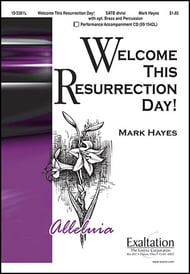 Welcome This Resurrection Day!
Mark Hayes
- Lorenz Corporation
Resurrection Sunday is the time to pull out all the stops and this joyous original anthem is overflowing with exuberance.  "All hail to Jesus, victor triumphant, to him be honor and glory and praise!"  Divisi chorals, 6-part brass, timpani and bells all intone the glories to the risen Christ with a buoyant 6/8 meter and cries of "Alleluia!"
Select a Product
Customers Also Bought