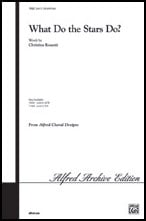 What Do the Stars Do?
Sherri Porterfield
- Alfred Music Publishing
Originally composed for SSA voices, this touching setting of a Christina Rossetti poem is beautifully adapted into an edition for mixed groups. It features classic choral writing exemplified by lovely harmonies and flowing melodies. Ideal for holiday concerts, festivals and adjudications, this is choral literature at its finest.
Select a Product
Customers Also Bought
This item appears on the following state lists:
This item appears on the following festival lists: