What It Is
(The Life of a Jazz Artist)
Dave Liebman & Lewis Porter
- Scarecrow Press, Inc.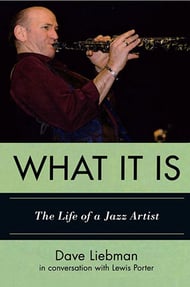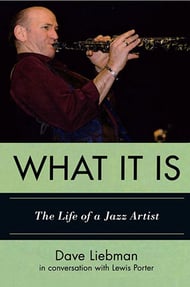 What It Is
(The Life of a Jazz Artist)
Dave Liebman & Lewis Porter
- Scarecrow Press, Inc.
In What It Is: The Life of a Jazz Artist, friend, pianist, and noted jazz scholar Lewis Porter conducts a series of in-depth interviews with David Liebman, who discusses his professional, personal, and musical relationships with Miles Davis and Elvin Jones, as well as such notable musicians as Chick Corea, Richie Beirach, Michael and Randy Brecker, and many others. Through the interviews, Liebman discusses such personal matters as contracting polio as a child and the difficulties it caused as an adult during his rise as a jazz musician. He offers insights into the life of jazz performers of his generation, particularly the tumultuous period of the 1960s and 1970s. The book also features rare photos from Liebman's personal collection. A fascinating and witty storyteller, Liebman's stories in What It Is will appeal to jazz fans and scholars by providing a firsthand look into the creative life of one of America's leading jazz musicians. Hardcover book, 402 p.
Copyright: Lanham, MD: Scarecrow Press, Inc. ©2012
Select a Product
Customers Also Bought