When Love Was Born
Richard Kingsmore / Cliff Duren, Tom Fettke, Lari Goss, Robert Sterling
- Word Music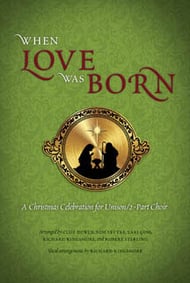 When Love Was Born
Richard Kingsmore / Cliff Duren, Tom Fettke, Lari Goss, Robert Sterling
- Word Music
Publisher Desc.
The significance of the night Christ was born is told in this simple setting of great arrangements by some of today's most loved arrangers. Just 20 minutes in length, the unison/two-part voicing is accessible for choirs of any size without sacrificing the stirring musical emotions of the season. Featuring thoughtful scriptural narration and Richard Kingsmore's well crafted choral parts, your choir will shine as they sing of the joyous night "When Love Was Born."
Songs include:
This Child Was Born for You
with
Angels We Have Heard on High, 'Twas the Light Before Christmas, The Night That Christ Was Born, When Love Was Born, Shine On.
Select a Product
Customers Also Bought
Full Song List
THIS CHILD WAS BORN FOR YOU
TWAS THE LIGHT BEFORE CHRISTMAS
THE NIGHT THAT CHRIST WAS BORN
WHEN LOVE WAS BORN
SHINE ON