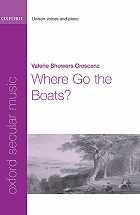 Where Go the Boats?
Valerie Showers Crescenz
- Oxford University Press
Publisher Desc.
for SA and piano This poem by Robert Louis Stevenson explores the tender and inquisitive nature of a youthful mind. Perfect for any children's choir concert in the spring or autumn, this piece can also be useful for children who are just beginning their experiences with harmony.
Select a Product
Customers Also Bought
This item appears on the following festival lists: