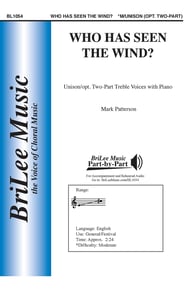 Who Has Seen the Wind?
Mark Patterson
- BriLee Music Publishing
Lyrical melodies are paired with Christina Rossetti's well-known poem in an expressive and mature piece for unison or two-part treble choirs. Text painting and beautiful phrases present the opportunity to teach tone and blend, and the simple echoing harmonies are a wonderful choice for choirs that are just learning to sing harmony confidently.
Select a Product
Customers Also Bought
This item appears on the following state lists:
This item appears on the following festival lists: