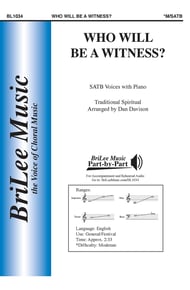 Who Will Be a Witness?
arr. Dan Davison
- BriLee Music Publishing
The beloved spiritual is presented for young mixed choirs with a brisk tempo, fun accents and syncopations. Accompanied by a pulsating ostinato-like bass line, the rhythmic accompaniment adds interest and variety for a setting that is sure to impress audiences and energize choirs.
Select a Product
Customers Also Bought
This item appears on the following state lists:
This item appears on the following festival lists: