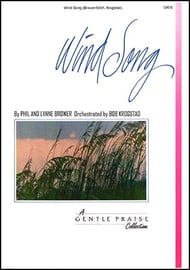 Wind Song
Phil & Lynne Brower / Bob Krogstad
- Great Stuff Music Company
Publisher Desc.
WIND SONG... A new sound in praise! It's soft... soothing, yet energetic and intense. It's light... delicate, yet strong and powerful. It's pretty... melodic, yet rhythmic and interesting.
WIND SONG...is easy but innovative, simple but elegant. It seems to touch people of all ages and musical tastes.
SO... Whether you do it one song at a time... or just a few.. or all of them together, we hope that Wind Song will bring you wonderful moments of "Gentle Praise!"
Available for purchase - the complete musical book or individual songs (under separate listings). For fully orchestrated Accompaniment and Listening Tracks, please visit greatstuffmusiccompany.com.
Select a Product
Customers Also Bought