Wolfgang Amadeus Mozart Poster
Al Moretti
- Moretti Music Publishing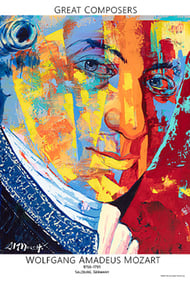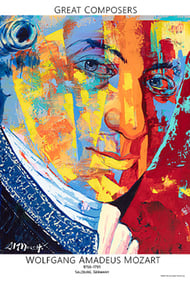 Wolfgang Amadeus Mozart Poster
Al Moretti
- Moretti Music Publishing
Publisher Desc.
Great composer paintings by artist Al Moretti
A modern take on traditional composer portraits. Full of color and brightness to attract visual attention. Highlighting great composers that will brighten your room with art grade posters. Also check out Great Women Composers, Great American Composers, and more from this publisher at JWPepper.
Wolfgang Amadeus Mozart was a prolific and influential composer of the Classical period. Mozart showed prodigious ability from his earliest childhood. Already competent on keyboard and violin, he composed from the age of five and performed before European royalty. He wrote in every major genre.
Select a Product
Customers Also Bought