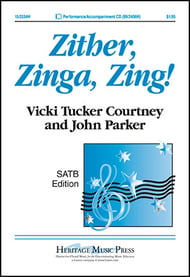 Zither, Zinga, Zing!
Vicki Tucker Courtney & John Parker
- Heritage Music Press
This finger-snappin', toe-tappin' swing-style number will be a breath of fresh air for your next concert. Each voice part has its own melody with "Zither, zinga, zing..." lyrics before joining the ensemble on "Movin' to the jazzy sound of the music all around..." Right up to the final jazzy chord, it will have your audience movin' to the beat!
Select a Product
Customers Also Bought
This item appears on the following festival lists: