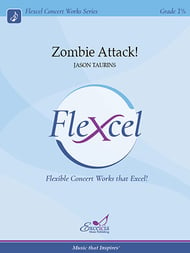 Zombie Attack!
(Flexcel Concert Works)
Jason Taurins
- Excelcia Music Publishing, LLC
This creepy work for developing bands is a perfect fit for your next Halloween concert. With plenty of opportunity for sonorous tutti playing and low brass independence, the unique harmonic style is great for teaching common accidentals. Your students will ask to play this spooky thriller again and again! This flexible version is available with reproducible parts and is adaptable to many ensemble configurations.
Select a Product
Customers Also Bought
MINTS