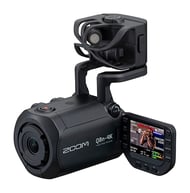 Zoom Q8n-4K Handy Video Recorder
- Zoom North America
The 4K Camera for Your Look and Sound
The Zoom Q8n-4K is the creator's choice - a complete audio/visual solution designed to capture professional-grade audio with 4K video in a versatile, all-in-one handy recorder. It is the perfect video production and live-streaming solution for today's musicians, filmmakers, podcasters and more.
Video Production Beyond the Limits of a Smartphone
The Q8n-4K is designed to showcase your best sound and look, elevating your videos with four audio tracks and 4K ultra-high-definition video.
Light Weight, Light on the Wallet
Compared to a mirrorless or DSLR, this camera's size is meant to seamlessly fit into your production while its price ensures that it fits into your budget.
4-Track Minded
With the Zoom X/Y mic capsule and two XLR inputs, you can capture up to four tracks of simultaneous, crystal-clear audio to record your genuine look and sound during live performances and rehearsals.
Easy on the Eyes
Record in 4K resolution at 30 fps. With the F2.8/150º wide-angle lens, five field of view settings, and brightness adjustments, the Q8n-4K produces vivid video quality at every shoot.
Live Streams
Easily connect to your computer via USB and stream to your favorite platforms.
Set the Scene
Get the right look in any setting using Scene presets for indoor, outdoor, nighttime, and concert lighting. Or, use the Auto setting to optimize lighting based on your environment.
Listen Up
Use the stereo headphone output jack and on-screen level meters to monitor your sound.
Selfie Mode
Use the flip-out screen to view yourself while operating the Q8n-4K.
Power Your Shoots
Choose the right power source for your environment by using the rechargeable Li-ion battery, charge via USB, the optional AC adapter - all while recording to a mini-SD card up to 512 GB.
You're in Control
The Q8n Control app for iOS allows you to remotely monitor your levels as well as start and stop recording (BTA-1 Bluetooth adapter required)
Features & Specs
• 4K video and 4-track audio recorder
• High-quality 150º wide-angle lens with five field-of-view settings
• Interchangeable Zoom mic capsule system
• Two XLR mic/line inputs with phantom power
• Full-color flip LCD for self-movie capture
• USB interface for live streaming/data transfer
• iOS/Android apps for remote control (optional BTA-1 Bluetooth adapter required)
Select a Product
Customers Also Bought