The Case of the Counterfeit Napoleon
(A Sherlock Holmes Musical Mystery)
Darryl G. Bojanowski / Orchestrations by Seth Jordan Butler
- TND Musicals, LLC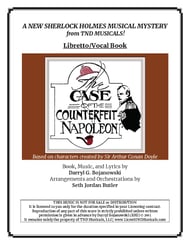 The Case of the Counterfeit Napoleon
(A Sherlock Holmes Musical Mystery)
Darryl G. Bojanowski / Orchestrations by Seth Jordan Butler
- TND Musicals, LLC
Publisher Desc.
Based on characters created by Sir Arthur Conan Doyle, The Case of the Counterfeit Napoleon, new from TND Musicals, LLC, is a medium-sized cast musical mystery (2 women, 4 men, 1 female and 1 male teen, and 7 - 10 mixed gender teens ages 10 - 14.
Synopsis: It is London in the late Victorian era, and someone is busting busts. Busts of Napoleon. The likely culprit is none other than London's Napoleon of crime, Professor Moriarty. And if Moriarty is involved, Sherlock Holmes is certain to be on the case. And if Holmes is there, his equally famous chronicler, Doctor Watson, must be there as well. Add 221B Baker Street housekeeper Mrs. Hudson, Abigail Martin, Moriartyis flamboyant cousin from Chicago, and the loyal and ebullient Baker Street Irregulars and you have a tuneful yet engrossing musical mystery. Next stop, London! Columbus Dispatch Theatre Critic Michael Grossbergis review headline reads "No mystery about "Casei - itis (a) fine musical." Dennis Thompson, Suburban News Theater Critic, says "Bojanowski turns familiar stories into enjoyable musicals."
Orchestration Choices: 1) 15 piece orchestra OR 2) Piano, Keyboard and Percussion OR 3) Performance .mp3 Tracks.
Songs include Cobblestone Streets of London Town; Call On Us; Dear Watson; Oh, Mister Holmes; Partners; The Truth; Itis A Mystery; I Had Dreams; Baker Street; A Quiet Man and more. Performance time: approx. 1 hour 40 minutes + intermission
More information at https://www.licenSINGMusicals.com
Important information - Please read
Select a Product
Customers Also Bought