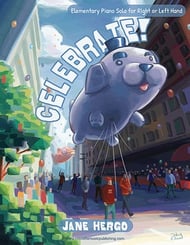 Celebrate!
(Elementary Piano Solo for Right or Left Hand)
Jane Hergo
- Nouvelle Music Publishing, LLC
Publisher Desc.
Jane Hergo's Celebrate! is a one-hand elementary piano solo that can be played be either hand. Shifting clefs and a variety of melodic intervals will test the young pianists reading ability. Right hand fingering is provided above the staff while the left hand is below.
Copyright: : ©2020
Select a Product
Customers Also Bought