Civil Rights: A Tribute to Dr. Martin Luther King, Jr. And His Journey Through 1963
(In Three Movements)
Aaron Noe
- Aamano Music, Inc.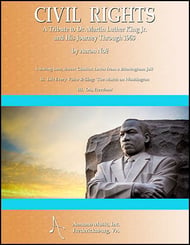 Civil Rights: A Tribute to Dr. Martin Luther King, Jr. And His Journey Through 1963
(In Three Movements)
Aaron Noe
- Aamano Music, Inc.
Publisher Desc.
Civil Rights was written for the Mid-Atlantic Wind Symphony for a concert in 2013. The piece focuses on the 50th Anniversary of Dr. Martin Luther King Jr.s monumental rise to become a major national figure in 1963. Over the span of that year, many major and significant events occurred. It was in the early part of the year that Dr. King was arrested and jailed in Birmingham, Alabama. While being held, he penned the famous "Letter from a Birmingham Jail." In many ways this letter helped to solidify the Civil Rights Movement and focus the cause through a unified vision. This event is commemorated with three powerful movements.
Select a Product
Customers Also Bought
MINTS