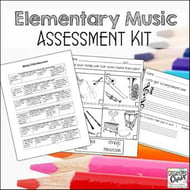 Elementary Music Assessment Kit
Elizabeth Caldwell
- Organized Chaos
Assessments in the general music setting can be tricky - so much can seem subjective, and with so many students and so little class time, the task can seem impossible! This kit is intended to make assessment in the general music classroom simpler.

Included in this set:
Assessment templates and worksheets for composition and instrument identification, in PDF
User notes with instructions for use
Assessment rubrics, organized by skill or concept and sorted by grade level in fully editable Word and PDF formats
Beat and rhythm: demonstrating steady beat, reading and performing specific rhythmic elements, composing and improvising with specific rhythms
Melody and pitch: demonstrating melodic contour, performing specific solfege, performing specific pitches on recorder, composing with specific solfege, composing with treble clef letter names, composing with bass clef letter names, creating chord progressions
Harmony and timbre: identifying instruments of the orchestra visually and aurally, identifying instrument families, demonstrating four voices, composing in major and minor tonalities
Expression: choosing expressive elements for a given song, performing with expressive elements, notating expressive elements for composition, creating an arrangement of a given song
Form: demonstrating same and different sections through movement, identifying repeating and contrasting sections, creating variations for a given theme, composing in rondo form with sections communicating different moods

Please see the preview for a closer look at how the rubrics are set up - they are written to align with standards-based grading but are fully editable so you can adapt them to your own grading scales and specific assessments.
Select a Product
Customers Also Bought